Our People
Leaders in sustainable tyre solutions since 1950.
The driving force behind our success.
At Vaculug, we stand tall as a symbol of quintessential British values – a company that thrives on the rich tapestry of diversity, equality, and an indomitable spirit of togetherness among our workforce.
Our defining trait, the cornerstone of our identity, is the unique family-like culture that envelops our organization. It's this very essence that propels us into a league of our own. We fervently believe in knitting robust bonds among our Vaculug family, fostering an environment that is not just supportive, but nurturing in its entirety.
Why do we invest so profoundly in creating a culture that feels like family? Because we're firm believers that a content heart leads to a motivated mind. We understand that when our Vaculug family feel valued, cared for, and cherished, their spirits soar, igniting a chain reaction of positivity that fuels a workplace which is not just productive, but truly transformative.
Our commitment to nurturing goes beyond camaraderie – it extends to nurturing talent from within. Through leadership development and mentorship programs, we not only nurture skills, but also a sense of belonging. This, in turn, enriches employee engagement, as they feel invested in the growth story of our business.
As we walk through the corridors of Vaculug's culture, we're enveloped in an ambiance that speaks of unity, purpose, and shared goals. It's a culture that mirrors the very essence of our British heritage – a legacy of inclusivity, warmth, and the unwavering belief that a family that works together, prospers together.
At the pinnacle of our achievements, stands a coveted recognition that resonates with our unwavering commitment to excellence – the 'Outstanding' accolade bestowed upon us as a testament to our prowess within the Best Companies Accreditation.
This prestigious acknowledgment is a testament to our unrelenting dedication to creating an exceptional workplace environment. It encapsulates our ethos of nurturing a culture that empowers, supports, and inspires our workforce to achieve greatness.
The 'Outstanding' badge is not just a symbol; it's a reflection of the tireless efforts we invest in sculpting a workplace that not only thrives, but soars. This recognition speaks volumes about the harmony, camaraderie, and unwavering spirit that defines our organization.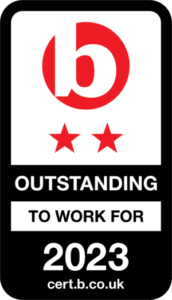 Join the family!
Join our Vaculug family and bring your skills and passion to a company that values innovation, collaboration, and excellence.
We offer a wide range of career paths and have many exciting projects on the horizon, there's no limit to what you can achieve at Vaculug.
Want to chat about a career at Vaculug?
keyboard_arrow_leftPrevious
Nextkeyboard_arrow_right